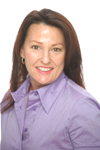 Debbie Walker
Director of Regulatory and Compliance
Debbie joined QwickRate in 1988 during a time of regulatory restructuring that was prompted by upheavals in the banking industry. As new rules and requirements were discussed and enacted, Debbie communicated closely with the regulatory agencies about how the changes would impact financial institutions and their activity in the national CD marketplace. She has continued and expanded these activities ever since. Debbie meets frequently with the FDIC and conducts conferences with various state and national field examiners. In addition, she participates in Webinars and conferences held by QwickRate, banking and regulatory agencies, and financial institution associations across the country. However, her number one priority is to personally offer answers and guidance to QwickRate subscribers who need help with regulatory matters pertaining to the nationwide non-brokered CD market. Debbie holds a Bachelor of Business Administration in Finance degree from Kennesaw State University.
Areas of concentration
Interpreting the impact of proposed and enacted regulations that may impact non-brokered funding and QwickRate subscribers.
Meeting regularly with the FDIC and other regulatory representatives to further the understanding and application of direct national market CD funding.
Evaluating proposed regulations and providing insights to subscribers about newly introduced measures that impact non-brokered CD funding activities.
Participating as a featured industry speaker and panel member on industry subjects such as contingency funding, CIP deposit classification, Direct Deposit Listing Services, etc.
Answering questions and providing clarifications to QwickRate subscribers regarding regulatory matters related to out-of-market deposits.
Articles and publications
The QwickRate Risk Management Workbook
Contingency Funding Plans: Common misconceptions and How to Avoid Them
Clearing up the Confusion: Brokered vs. Non-Brokered Deposits
What to Expect When a Bank Fails
View articles
Industry engagements
The Finance & Accounting Forum – Conference
ICBA National Convention and Techworld®
Illinois Division of Banking – Webinar
Tennessee Department of Financial Institutions – Conference
Georgia Department of Banking and Finance – Webinar
FDIC Regional Directors – Webinar
Federal Reserve Bank Richmond – Webinar
FDIC Kansas City Region Accounting and Capital Markets – Conference