Our Partners
We keep great company.
Here are some of the organizations we have had the pleasure of working with over the years.
Read more to find out how they can help your institution.
Independent Community Bankers of America
www.icba.org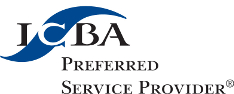 The Independent Community Bankers of America, the nation's voice for community banks, represents nearly 7,000 community banks of all sizes and charter types, is dedicated exclusively to representing the interests of the community banking industry and its membership through effective advocacy, best-in-class education and high-quality products and services. For more information, visit www.icba.org .
---
Monroe Financial Partners, Inc.
www.monroefp.com

Monroe Financial Partners, Inc. is an investment banking firm that has focused on serving community banks nationwide since it was founded in 1968. The firm offers capital raising, M&A, valuation and strategic advisory services to community banks, in addition to being one of the most active market makers of community bank stocks in the nation. Monroe also has an affiliated community bank investment fund, Siena Capital Partners.
Current Monroe's Market Makers Quarterly Review: Q2 2017