Our Partners
We keep great company.
Here are some of the organizations we have had the pleasure of working with over the years.
Read more to find out how they can help your institution.
Independent Community Bankers of America
www.icba.org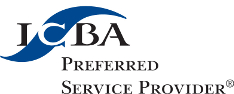 The Independent Community Bankers of America, the nation's voice for community banks, represents nearly 7,000 community banks of all sizes and charter types, is dedicated exclusively to representing the interests of the community banking industry and its membership through effective advocacy, best-in-class education and high-quality products and services. For more information, visit www.icba.org .