Easy, online access to the Institutional Bond Market.
Greater investment and liquidity options to help you manage your investment portfolio.
QR Securities delivers efficiency, convenience and clarity to the fixed income markets. We combine technology, aligned with the needs of the institutional portfolio manager, with in-depth market expertise and trade desk execution services. Portfolio managers have access to a broad universe of bonds, pre-trade pricing, and trade desk execution support.
QR Securities, a division of Monroe Financial Partners, Inc. and QwickRate sister company, was created to serve QwickRate customers and institutional investors. Monroe Financial Partners is a FINRA registered broker dealer.

Buy and sell securely, efficiently and confidently.
Broad access to thousands of bond offerings
Multiple liquidity solutions to find best execution pricing
Trade Desk support combining technology and fixed income expertise to assist in selecting bonds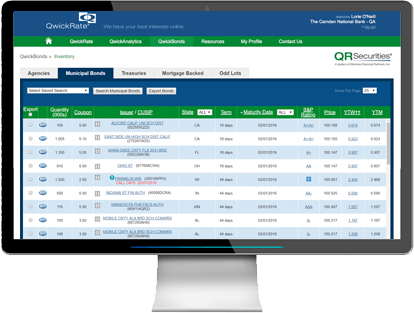 Benefit from trading made fast and efficient.
Transactions made with only a few mouse clicks
Search, save and request notifications about potential investments
Extensive data and credit reports available to perform analysis and compliance reports
Service quality that only QwickRate and QR Securities provide.
30+ years focused on serving community institutions
Broad market access and liquidity services
Fixed Income experts and customer support dedicated to help
Our Satisfied Customers
"I know I don't use your services to their fullest potential, but you are always there when I need you to place funds and with the addition of QR Securities, you have given your customers awesome capabilities to place funds where they can achieve the greatest returns. I would recommend your services to anyone in the market."